The release of the Boxset has been delayed until the 11th September 2015.
This is a Box set comprised of the remastered album series: Private Parts and Pieces,
these are a naming convention of a series of albums by Anthony Phillips.
These albums were issued in between or in some early cases as an additional item to the record
company albums such as The Geese and The Ghost right through and beyond the 1984 album.
Only a person with a curious and fiendish mind such as Anthony Phillips could have the cunning
to do that to provide his long term and recent followers a glimpse into his mind away from the main albums.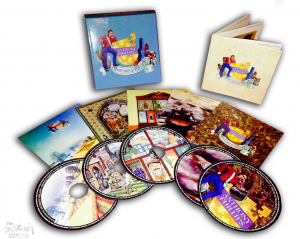 This box set serves to encompass Private Parts and Pieces 1 to 4 with a Fifth disc comprising additional material.
TRACK LISTING:
DISC ONE:
PRIVATE PARTS & PIECES
1.BEAUTY AND THE BEAST
2.FIELD OF ETERNITY
3.TIBETAN YAK MUSIC
4.LULLABY – OLD FATHER TIME
5.HARMONIUM IN THE DUST (OR HARMONIOUS STRATOSPHERE)
6.TREGENNA AFTERNOONS
7.STRANGER
8.REAPER
9.AUTUMNAL
10.FLAMINGO
11.SEVEN LONG YEARS
BONUS TRACKS
12.SILVER SONG (DEMO)
13.MOVEMENT IV FROM GUITAR QUINTET
DISC TWO:
PRIVATE PARTS & PIECES: BACK TO THE PAVILION
SCOTTISH SUITE:
1.SALMON LEAP
2.PARTING THISTLE
3.ELECTRIC REAPER
4.AMORPHOUS, CADAVEROUS AND NEBULOUS
5.SALMON'S LAST SLEEPWALK
6.LINDSAY
7.K2
8.POSTLUDE: END OF THE SEASON
9.HEAVENS
10.SPRING MEETING
11.ROMANY'S ARIA
12.CHINAMAN
13.NOCTURNE
14.MAGIC GARDEN
15.VON RUNKEL'S YORKER MUSIC
BONUS TRACKS
16.WILL O' THE WISP
17.TREMULOUS
18.I SAW YOU TODAY
19.BACK TO THE PAVILION
20.LUCY: AN ILLUSION
DISC THREE:
PRIVATE PARTS & PIECES PART III: ANTIQUES
1.MOTHERFOREST
HURLINGHAM SUITE:
2.(i) IVIED CASTLES
3.(ii) FROSTED WINDOWS
4.(iii) BANDIDO (2:46)
5.(iv) CHURCH BELLS AT SUNSET
6.SUITE IN D MINOR:
i. WHIRLPOOLS
ii. COBBLESTONES
iii. CATACOMBS
7.DANSE NUDE
8.ESPERANSA
9.ELEGY
10.OTTO'S FACE
11.SAND DUNES
12.OLD WIVES TALE
BONUS TRACKS
13.FROSTED WINDOWS
(VARIATION I)
14.ESPERANSA (ALTERNATE MIX)
15.BANDIDO (EARLY TAKE)
16.OLD WIVES TALE (TAKE 6)
17.SUITE IN D MINOR (ALTERNATE VERSION)
18.FROSTED WINDOWS
(VARIATION II)
19.EL CID
DISC FOUR:
PRIVATE PARTS & PIECES IV:
A CATCH AT THE TABLES
ARBORETUM SUITE:
1.(i) SET PIECE
2.(ii) OVER THE GATE
3.(iii) FLAPJACK
4.(iv) LIGHTS ON THE HILL
5.EARTH MAN
6.DAWN OVER THE LAKE
7.BOUNCER
8.EDUARDO
9.HEART OF DARKNESS
10.THE SEA AND THE ARMADILLO
11.SISTINE
BONUS TRACKS
12.EROTIC STRINGS
13.A CATCH AT THE TABLES
14.FLAPJACK (SOLO VERSION)
15.THEME FROM OPERATION WHALE
DISC FIVE:
PRIVATE PARTS & EXTRA PIECES:
1.SEA PIECE INTRO
2.PRELUDE 3
3.THE PRINCESS WALTZ
4.THE MARIONETTE VIGNETTE
5.DUCHESS OF KEW
6.BIRDSONG LINK
7.OVER THE GATE (ALTERNATE MIX)
8.SEA SKETCHES
9.LINES IN THE SAND
10.STUDY IN D MAJOR
11.MOONSHOOTER PIANO
12.LONG AGO
13.LULLABY – OLD FATHER TIME VARIATION
14.THEME FROM SEA PIECE
15.SISTINE (ALTERNATIVE PIANO VERSION)
16.ARMADILLO AIR
17.K2 LINK
18.STILL-BORN LOVE
Record Label: Esoteric Records
Catalogue Number: ECLEC52510