Peter Gabriel Growing Up Live – Audio
Amazon lists the release date as the 8th February 2019, on Apple Itunes it was released on the 25th January 2019.
In 2002 and 2003, following the release of his album UP, Peter Gabriel went on the road with his Growing Up tour, once again collaborating with production designer Robert Lepage to create a spectacular and theatrical live experience. The tour took in thirty-two cities across the USA, Canada and Europe and this concert performance was recorded over two nights at the Filaforum in Milan in May 2003, with Peter Gabriel and the band performing in the round at the centre of the arena.
A concert film capturing the live show was released in late 2003, but Growing Up Live has never been a stand alone audio release, until now.
The touring band you will hear on this recording consists of Ged Lynch (drums), Tony Levin (bass, vocals), David Rhodes (guitar, vocals), Richard Evans (guitar, mandolin, whistle, vocals), Rachel Z (keyboards, vocals), Melanie Gabriel (vocals) and Peter Gabriel (vocals, keyboards).
"The band is a mixture of old and new. In the tried and tested friend department there's David Rhodes on guitar who I've played with for many years, since his band Random Hold supported me on a tour way back. He began life as a sculptor, never wanted to be a professional musician, but sort of fell into it.
Tony Levin, who's on bass, was actually on the first record that I did after I left Genesis. He's the longest serving member, but obviously he does so many other things on his own, with King Crimson and many other people over the years. I think he is one of the most respected bass players in the world, so I feel very lucky that he is always out with me.
There's Rachel Z who is a very able keyboard player. She is better known in the jazz world but has been developing her own sort of rock stuff and has just put out an album of Joni Mitchell covers too. She's very good. She's also the daughter of an opera singer and has a very useful set of pipes on her as well.
I've worked in the studio with Richard Evans many times, but this is the first time live. He plays numerous instrument; mandolin, flutes, whistles, guitar. So that's fun.
The drummer Ged Lynch. When we were making the album, Manu (Katché) was away on tour for some of the time so Ged came in. Manu's a brilliant player but he is quite a decorator in some ways so it's always beautifully and very musically done. Ged, on the other hand, sits in this tight box and there's this sort of powerhouse driving things forward. It felt good for me to try and make the band focus more direct this time out. Ged is also a great percussionist and did a lot of percussion on the record as well.
Then, my daughter Melanie is out with me singing, and that's a real pleasure for Dad."
Special guests: during the night are The Blind Boys of Alabama, Dr Hukwe Zawose, Charles Zawose, Sevara Nazarkhan and the voice of Nusrat Fateh Ali Khan.
Here Comes The Flood (Live)
Track list
Darkness (Live)
Red Rain (Live)
Secret World (Live)
Sky Blue (Live)
Downside Up (Live)
The Barry Williams Show (Live)
More Than This (Live)
Mercy Street (Live)
Digging In The Dirt (Live)
Growing Up (Live)
Animal Nation (Live) [feat. Dr Hukwe Zawose & Charles Zawose]
Solsbury Hill (Live)
Sledgehammer (Live)
Signal To Noise (Live) [feat. Nusrat Fateh & Ali Khan]
In Your Eyes (Live)
Father, Son (Live)
Total Length: 2:07:45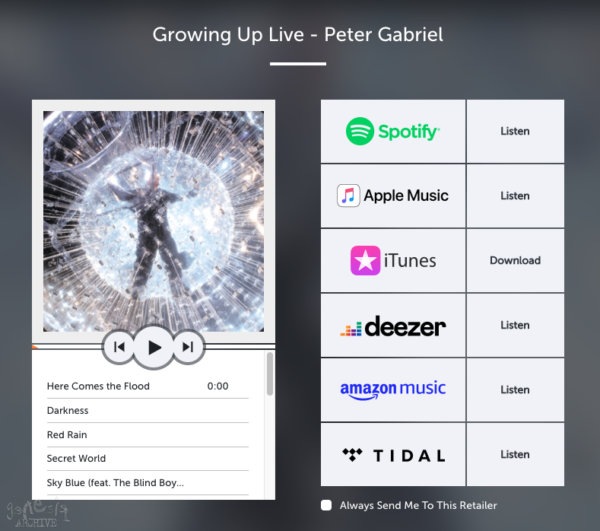 Access to the stream – Download
Original Release Date: 8 Feb. 2019
Release Date: 8 Feb. 2019
Label: Real World Productions Ltd.
Copyright: ℗© 2019 Peter Gabriel Ltd